Agrifiber
Evergreen and members of its staff have been active for many years in development and utilization of agricultural fibers (agrifiber) as a raw material resource for processes, primarily in the wood products industry. This annually-renewable resource, often an environmental liability, offers a sensible alternative to wood fiber for many applications.
Product Development and Prototypes
Types of agrifiber used: grass straw, cereal straw, rice straw, bagasse, stover
Prototypes and testing performed:

Structural composite panels
Pulp, low-density core, molded products

Process development:

Medium density fiberboard (MDF)
Strandboard
Project Examples
Agriboard Industries – Dallas, Texas
Utilizing rice straw, developed and tested product prototypes for a replacement panel for OSB (long-strand structural panel) in a built-up wall panel system.
Harvest Board – Lisbon, North Dakota
Provided technical consulting to assist with process/start-up issues. Wheat straw, molded product (cabinet doors).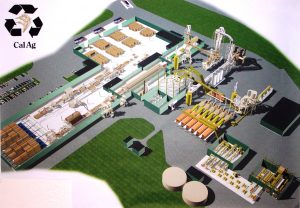 California Agriboard (CalAg) – Willows, California
Assisted with product prototyping and testing at laboratories in the U.S. and Europe. Provided preliminary engineering for a new greenfield MDF plant using rice straw, including process, layouts, equipment definition, capital cost estimation, and permitting. Served as CalAg's engineer on the EPC team to design and construct the plant.
HM3 – Gresham, Oregon
Provided preliminary engineering and cost estimates for a pilot commercial torrefaction plant using palm oil empty fruit bunches to produce biofuel briquettes for biomass boilers.